In the academic 2020/2021year, 24.047 students of all study levels have been studying at the faculties of the University of Niš. Out of this number, there are 18.104 students in basic professional, basic academic and integrated undergraduate studies, among which 67 students are of foreign nationalities.

2020/2021
24047 students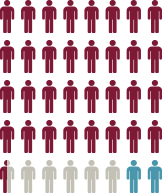 FIRST LEVEL STUDIES
basic academic, basic professional


SECOND LEVEL STUDIES
diploma academic, specialized professional, specialized academic


THIRD LEVEL STUDIES
doctoral academic
There are 2.678 students enrolled in master academic studies, and 1.228 students in doctoral academic studies.
From the University foundation until the academic year 2019/2029, 75.494 students have graduated from the University of Niš, 1.383 of them being foreign citizens, while 7.429 postgraduates acquired master and 2.621 magister degrees, while 2.653 candidates, including 46 foreigners, defended their doctoral dissertations.
University of Niš was accredited on January 31st 2009 for the first time, within the third cycle of accreditation of higher education institutions in Serbia, together with the Universities of Belgrade and Novi Sad. Five years later, another accreditation procedure was carried out, and the University of Niš received the Accreditation Decision on November 14th 2014.

In conformity with the Law on Higher Education and by the decisions of the Commission for Accreditation and Quality Assurance of the Republic of Serbia, all the faculties of the University of Niš have been accredited.
University of Niš incorporates 14 faculties